Welcome!
Welcome to Polo Promotions and thank you for visiting our site! We have access to over 500,000 promotional items with your logo!!

We are very competitive and will do our best to provide you with the best quality at the lowest prices!



Featured Item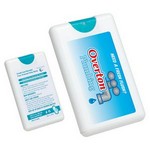 Credit Card Fresh Flush Pretreat Potty S...
Fresh Ocean scent odor eliminator spray. Environmentally friendly essential oils create a protective scent barrier on the surface of water to trap odor underneath. Pretreat toilet bowl with 2-3 spritz...
$1.75 - $1.95
Signature Showrooms